What Makes Us Unique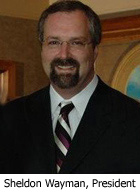 With over 37 years of experience in business-to-business, consumer, high-tech and pharmaceutical research, Sheldon Wayman, president, ensures all our programs meet the highest standards of quality assurance and client satisfaction.  With a unique ability to turn research into marketing tools, he's worked with hundreds of managers in teaching them creative selling and product development strategies.
The Wayman Group, Inc. will work with you to establish research objectives and ask the right questions.  Further, we will stay with you after project completion to ensure that you get the best bang for your buck.  This typically involves roundtable discussions of survey results with your management and/or sales team.  This exercise will ensure that the research is utilized to make credible decisions and not put on a shelf.
Most of all, we help our clients become the experts with powerful presentations of survey results!